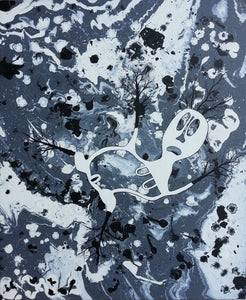 Mawu-gi [ Brent Emerson ]
Maambiyaa
Regular price
$0.00
$0.00
Maambiyaa
Acrylic Painting
50.8cm (W) x 60.8cm (H)
Maambiyaa (Gamilaraay tree spirit). Maambiyaa appears when the weather is very windy and overcast.
Ready to hang. 100% cotton deep edge stretched canvas. Atelier mediums/Atelier Interactive professional artists' acrylics.
The back of the artwork is titled, dated, signed and has a unique 5 digit artwork ID number to identify it. The artwork is secured by 49 strand grade316 stainless steel wire rope, 316grade stainless steel wire rope grips and screw eyes.
---
More from this collection