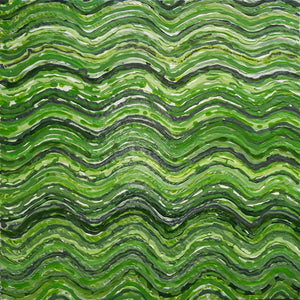 Mawu-gi [ Brent Emerson ]
Dhurrulawaa
Regular price
$300.00
$0.00
Dhurrulawaa
Acrylic Painting
51cm (W) x 51cm (H)
Dhurrulawaa (Gamilaraay for 'waterweed') a long rope like water plant. A stylised geometric representation of the long rope like water plant with a yellow flower.
Dhurrulawaa ( waterweed ). Ready to hang. 380gsm 100% cotton deep edge stretched canvas. Atelier mediums/Atelier Interactive professional artists' acrylics.
The back of the artwork is titled, dated, signed and has a unique 5 digit artwork ID number to identify it. The artwork is secured by 49 strand grade316 stainless steel wire rope, 316grade stainless steel wire rope grips and screw eyes.
* International painting sales – paintings are unstretched and air freighted in a tube. For international sales please email Brent Emerson at mawugi@bigpond.com for an accurate freight and insurance quote. I will need details for Customs requirements and a Commercial Invoice for Export/Import. The online calculator at checkout will be a much more expensive option than contacting me directly and discussing your specific needs.
---
More from this collection