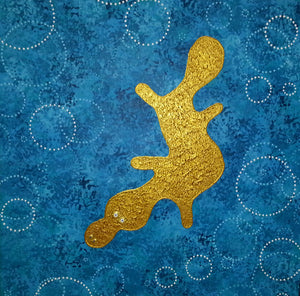 Mawu-gi [ Brent Emerson ]
Buubumurr
Regular price
$700.00
$0.00
Buubumurr
Acrylic Painting
51cm (W) x 51cm (H) 
This buubumurr (Gamilaraay for platypus) is inspired by those that I see on my bushwalks along the Macintyre River from Inverell upstream to Elsmore. I chose to do this painting in acrylics as something different to the traditional ochres. The colour choice of silver, turquoise and violet makes it a much more modern work to enjoy in someone's home.
Buubumurr (Platypus). 380gsm 100% cotton deep edge stretched canvas. All paints are Atelier Interactive professional artists' acrylics and all mediums are Atelier. Ready to hang.
The background has been painted with natural sea sponges. The cobalt turquoise bubble stream highlights the geometry of the water. Silver and silver/violet were used for the buubumurr to make it stand out in the foreground as the primary feature of the work. The outline of the buubumurr was done through plaiting the silver, turquoise and violet paint with an embossing tool. The dot pattern on the buubumurr's body shows its bone structure and its two primary sources of energy from the centre of its body and its tail.
The back of the artwork is titled, dated, signed and has a unique 5 digit artwork ID number to identify it. The artwork is secured by 49 strand grade316 stainless steel wire rope, 316grade stainless steel wire rope grips and screw eyes. It is ready to hang and enjoy.
* Free Shipping Australia Wide
* International painting sales – paintings are unstretched and air freighted in a tube. 
---
More from this collection