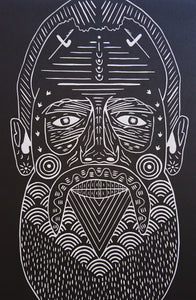 Mawu-gi [ Brent Emerson ]
Dhuwi
Regular price
$200.00
$0.00
Dhuwi
Artist Original Linoleum Print
38cm (W) x 56cm (H) 
Dhuwi (Gamilaraay for soul/spirit). Linoleum print (limited edition of 25). Paper 560H x 380W and Print 450H x 300W. Canson Edition 100% cotton 250gsm paper. Printmasters Professional Ink.
This linoleum print is of my dhuwi (spirit, soul). The mandhu (moustache) is suggestive of a gulagarranba (come back boomerang). Yurrandaali (goanna) dhina (tracks) are made in the mandhu (moustache). There is a Baayami (creator) icon on the ngulu (forehead). The bina (ears) both have a yaraay (sun) symbol. There are icons of a barran (hunting boomerang) and dhindi (fishing spear) on both sides of ngulu (forehead). The yuuruu (rain) in the yarray (beard) flowing onto/into the dhawun (earth, ground, dirt) making bulaarr (two) mayan (waterholes) at the dhal (cheeks). There are bandaar (grey kangaroo) along the muru (nose) and dhinawan (emu) tracks along the sides of the mil (eyes).
Linoleum print edition of 25 on Canson Edition 100% cotton 250gsm paper using Printmasters Professional Ink. This print requires framing. For framing the paper size in millimetres is 560H x 380W and the print itself is 450H x 300W.
* Free Shipping Australia Wide.
* All artist original linoleum prints and screenprints are sent rolled in a tube.
---
More from this collection