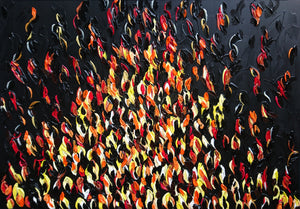 Mawu-gi [ Brent Emerson ]
Wii
Regular price
$0.00
$0.00
Wii
Acrylic Painting
100cm (W) x 70cm (H)
SOLD – email mawugi@bigpond.com for your very own commissioned artwork to meet your needs.
Wii (Gamilaraay for 'fire, light'). Abstract representation of fire and light using an impasto technique. Ready to hang. Atelier mediums/Atelier Interactive professional artists' acrylics.
The back of the artwork is titled, dated, signed and has a unique 5 digit artwork ID number to identify it. The artwork is secured by 49 strand grade316 stainless steel wire rope, 316grade stainless steel wire rope grips and screw eyes.
---
More from this collection