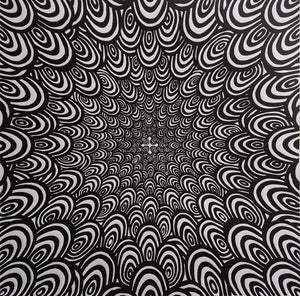 Mawu-gi [ Brent Emerson ]
Garriya Giinbal
Regular price
$230.00
$0.00
Garriya Giinbal (rainbow serpent scales).
57cm (W) x 62cm (H)
Artist original linoleum print (limited edition 25). Paper 620H x 570W and Print 455H x 455W. Paper: Canson Edition 100% cotton 250gsm extra blanc. Ink: Graphic Chemical Ink Co.
The whole design is about representing Garriya's (rainbow serpent from the dreaming) path across the landscape creating the rivers, waterholes and springs (underground water sources).
This design is based on dhuru (snake) scales. Repeating the shape, I made sure that both the thickness of the line and the shape was altered in proportion each time and worked on the angles of overlap and radiation out form the centre. This is what gives the optical illusion.
* Free Shipping Australia Wide.
* All artist original linoleum prints and screenprints are sent rolled in a tube.
---
More from this collection